Just a bit more blog candy to sight today that I missed out on yesterday. Since this is a new blog there is just so much to catch up on the first few days so keep checking back!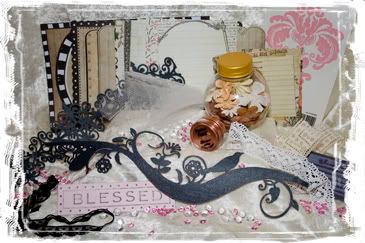 Like what you see in this picture? Ewonne is giving away all of the above as gorgeous blog candy! If you have never seen her blog before, check it out for some lovely creations. Interested in winning this blog candy? Visit her
blog
, leave a comment and link her!
Would you like to win this Little Blossom Cottage Set and Accessories Set from Clear Artistic Stamps? All you have to do is go
here
and tell them whether you would prefer a forum type chat, or a chat room for their release party next week, and what would entice you to attend!
The next blog candy up for grabs is a grab bag of ribbon, 3 gel pens, red rhinestones, and... Stampin Up's Alphabet Soup Stamp Set! All you need to do is click here and let Rebecca know what your favourite project of her's of 2008 was, a bonus 5 entries for linking her on your blog.

How would you like to help out a nursing home with some lovely cards while getting blog candy at the same time? You have a chance to win a Studio G stamp set, 2 packs of lovely brads, and pink chipboard letters! This is a great package for Valentine's Day! You will need to send one or more cards to Wellington, Ohio however every card you send is another entry! The drawing is February 6th so make sure to send your cards soon! Click here for more details! An extra entry for linking in your blog!

Melissa from Creating from the Heart! has some great blog candy as well! She is giving away Cosmo Cricket Chemistry Crafting Kit (full of 12 x 12 papers and journaling cards), 2 jars of Shimmerz, Bottle of Dew Drops, and 3 Copic markers. These are also all great for Valentine's Day! Link here.
Now this is great blog candy that you must do RIGHT AWAY! The drawing is sometime today so hopefully you can go check this out! You have a chance to win patterned papers, ribbons, buttons, and flowers that all match Stampin Up's Sock Monkey stamp set! Also included is 12 stamped prints of the Sock Monkey! Yay! I'm really excited about this one guys!
Even more great Valentine's Day Blog Candy here! You can win 2 vials of glitter, 40 pink baubles. I Love You stamp, EK Success stickers, 1 Prismacolour marker, 15 Tilda stamped images, Be Mine ribbon, and the To:/From: Cuttlebug Embossing Folder! This ends tomorrow at 8:00 pm so hurry over there!
Secret Blog Candy? Ally of Your Memories is giving away Valentine's Day Blog Candy here, although all she has said is the goodies will be worth the effort... This is worth trying just to see what she is giving away! All you have to do is comment, plus you get a bonus entries for linking on your blog and any other entry on her blog you comment on!
Now here's a chance to win 3 lots of blog candy on 1 blog! Three Clovers Designs is celebrating the 1 years anniversary of their blog. The first is a Sweetheart Pack of Valentine's Day items: papers, ribbon and blooms, stamps, etc. The second pack is the new Martha Stewart Valentine's Day punches! I am excited about this one! And the third pack has a stamp, paper, ribbon, and punch. All you got to do is follow her blog, link her up, and comment, comment, comment!
More will be added later, there is just so much to list!
Cheers